Last Updated on 13/12/2022
Yoshiwara is known as one of the largest soapland(SEX ESCORT) areas in Tokyo, Japan. It has been a historic red-light district since the Edo period (1603-1867), and has been the setting for many movies and novels.
The names of places that flourished as sex escorts can still be seen on the streets, reminding us of the town's history. This article will give a thorough introduction to Yoshiwara, a place every Japanese should visit at least once in his life.
Yoshiwara in the Edo period was one of the largest entertainment towns in the world.
Yoshiwara is the most famous sex escort town in Japan, but many people may not know exactly where it is located. To begin with, Yoshiwara is not on any map. There is no place called "Yoshiwara-cho". The location of Yoshiwara, as an address, is Senzoku.
It doesn't ring a bell when you hear the name ……, does it? The nearest station to Yoshiwara is, dare I say it, Minowa Station on the Tokyo Metro Hibiya Line. The reason I wrote "if I dare say so" is because it is very far from the station. It takes about 15 minutes on foot. It is located halfway between Minowa Station and Asakusa on Tokyo Metropolitan Road Route 306 (Dote-dori).
Because of this inconvenience in transportation, most stores in Yoshiwara offer a pick-up service. You can be picked up from the nearest station to the store by car. However, Yoshiwara was not built here from the beginning. It went through various changes before settling in its current location. Here is a brief history of Yoshiwara.
The Edo Period
Yoshiwara was established as a SEX brothel in 1617. It was established in the area that straddles the present-day Nihonbashi Ningyocho and Tomizawacho. It is said that the name "Yoshiwara" came from the fact that the area was then a wasteland with reeds growing on the shore.
Incidentally, the original Yoshiwara is called "Moto-Yoshiwara. When the city of Edo eventually prospered and the residences of feudal lords began to adjoin the area around the brothel, the shogunate ordered Yoshiwara to be relocated.
Yoshiwara refused to move, but in 1657, the Great Meireki Fire broke out in the city of Edo. The brothels that were burned out in the fire were relocated to a bank called the Nihonzutsumi, which stretched behind Sensoji Temple.
This is the present-day Yoshiwara (New Yoshiwara). According to a population census conducted in 1721, there were as many as 8,171 prostitutes in Shin-Yoshihara at that time.
Today, there are about 140 soaplands existing in Yoshiwara. Assuming an average of 30 Japanese girls per establishment, that would be roughly 4,200 Japanese girls. This means that there were twice as many prostitutes in Yoshiwara during the Edo period as there are today. At that time, Yoshiwara was surrounded by high walls to prevent prostitutes from escaping, and the only entrance and exit was the Yoshiwara O-mon Gate. Today, the site of this gate has become an intersection and is marked with the name Yoshiwara Daimon.
The area is also famous for its turnaround willow trees. The name comes from an episode in which a man returning from a brothel looked back under the willow tree to lament his last moments. Every time the willow withers, it is replaced by a new one, and the current one is in its sixth generation.
The Yoshiwara brothel was divided by streets, each of which was named "Nakanomachi-dori," "Ageba-dori," "Edomachi-dori," "Kyomachi-dori," and so on. These names remain as place names today.
The "Otsukuro Dobu" flowed around the brothels. Although it is now a road instead of a ditch, it still has a certain charm.
One of the best parts of a visit to Yoshiwara is to immerse yourself in the romance of Edo while feeling the remnants of the old days when the area was a pleasure quarter.
Meiji - Showa Periods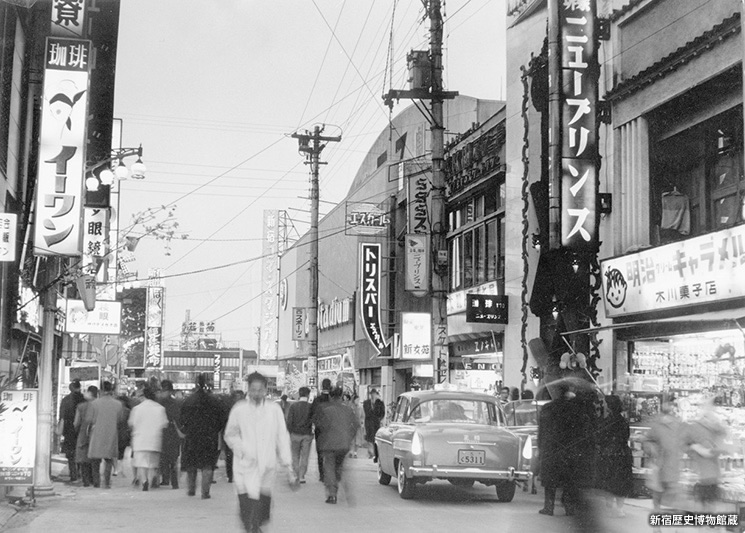 In 1946, after the end of World War II, GHQ issued an order to abolish public prostitution and shut down prostitutes, and Yoshiwara was reborn as a red-light district. The sign of the sex brothel was changed, and it obtained a license to operate as a restaurant (café), and prostitutes began to engage in prostitution under the name of jokyuu(waitress).
The name "red line" is said to have originated from the red lines on a map of areas where the prewar police had authorized brothels and other adult entertainment businesses. When the Anti-Prostitution Law was enforced in 1957, cafes in Yoshiwara were forced to close down.
Then, in 1958, "Higashiyama," a special restaurant (chonoma) in Yoshiwara, reopened as "Turkish Yoshiwara," a Turkish bath (the predecessor of soapland). A Turkish bath is a private sauna built to resemble a traditional public bathhouse (hammam) in the Middle East. At that time, there was no real service, and it was a wholesome one where clothed women gave massages.
Tokyo Onsen," which opened in Tokyo's Higashi-Ginza district in 1951, is said to be the first Turkish bath. Although there were more than 100 Turkish baths nationwide in the 1950s, Yoshiwara was the first to open one in the former red-light district.
In 1959, there were already 67 Turkish baths in Yoshiwara, which shows the rush to open new ones. Today, there are more than 100 soaplands in Yoshiwara. The number of such establishments tops all other soap towns in Japan.
At its peak, Yoshiwara was said to be crowded with as many as 250 soapland establishments. Although the number of customers has been decreasing due to the rise of "deli-help" services, Yoshiwara is still known throughout the country as the number one soap town in Japan.
Kawasaki for skill, Yoshiwara for love | Characteristics by Region
There is a saying in the soapland industry, "Kawasaki for technique, Yoshiwara for colorful love". Kawasaki refers to Horinouchi, a soapland in Kawasaki City, Kanagawa Prefecture. Horinouchi is the birthplace of "bubble dancing," a typical soapland sex technique, and the emphasis is on technique. Many of the girls in Horinouchi are so-called "workaholics.
On the other hand, in Yoshiwara, there is a tradition that soap girls with good looks are preferred over technicians. It may seem surprising, but it seems that amateur girls who are just starting out tend to sell better than girls who are truly experts in their field. For this reason, there are a number of stores that have the concept of amateurs.
Of course, the same is true in Yoshiwara, where soap girls with poor service do not sell well. It does not mean that there are few technicians in Yoshiwara, make no mistake!
From super high-class to budget! How to play Yoshiwara Soapland
Soaplands in Yoshiwara range from what are called budget stores to ultra-luxury stores, depending on the price.
Here are the characteristics of each.
Low-cost Soapland
Market price
Less than 60 minutes course, less than 20,000 yen in total
Average price: 10,000 to 20,000 yen in total
Most stores do not have mat play, and soft service is the mainstream. Many of the low-priced soaps tend to feature amateurs and cosplay. There are also some stores that have veteran girls in their 30s and 40s. You can play at a reasonable price, but you should not have high expectations because the level of the Japanese escort girls' looks and styles are often not good.
Mass-cost Soapland
Market price
80-100 minute course Total price 30,000 yen or more
Average price 30,000-40,000 yen
This is characterized by better service than budget stores at a lower price range with a shorter time. Depending on the Japanese escort girl, there are rare cases where mat play is not available. The basic rule is to play with a condom, but in rare cases, some stores allow play without a condom. Although STD testing is often conducted, there is still a possibility of contracting STDs, so if you are worried about it, we recommend that you wear a condom when you play.
High-class Soapland
Market price
120 min. course or longer, 60,000 yen or more in total
Average fee: 60,000-70,000 yen
You can enjoy a full range of rich services unique to Yoshiwara, such as immediate bed, mat play, and dirty chair. The play time is long, and you can enjoy a second time at your leisure. The girls' looks, personalities, and politeness are all of high quality, and some of the stores even have Japanese porn stars on their staff. As in the case of mass stores, condomless play is often required.
Super high-class Soapland
Market price
120 min. course or more Total price 80,000 yen or more
Average fee Total 80,000-100,000 yen
Girls who belong to super high-class establishments have acquired polite customer service and behavior appropriate to the dignity of the establishment. In almost all cases, the appearance of the girls is guaranteed to be good-looking and of excellent style. Many of the escort girls tend to be dark-haired, neat, and calm.Unlike high-class establishments, many of them do not offer hard play, and condom use is the norm.
Although we have introduced stores by price range, it is also a good idea to pay attention to the time of day when you play in Yoshihara. In Yoshiwara, there are stores that open early in the morning, called "early-morning soaps. Since early morning hours are less expensive than daytime hours, it is recommended for those who want to enjoy playing soap at the most reasonable price possible. Some stores are open from 6:00 a.m., so it is possible to enjoy a quick night out before going to work. Check the official website for the hours of operation.
Yoshiwara Soapland Google Map
Please be careful when using soapland. Japanese law prohibits the act of inserting a penis into a woman's pussy for money (prostitution). In fact, in 2020, a soapland in Katsushika-ku, Tokyo, was found by the police to be in violation of the Anti-Prostitution Law.
---
Recommended Legal Tokyo Escort Clubs
---
Recommended Soapland Japanese Pornvideo